COVID-19 Update:
As of March 23rd. We are closed for the health and safety of our guests and employees. We look forward to opening back up once it's safe to do so. In the meantime, our prayers go out to all those affected by the virus itself, as well as the financial burden it's placing on many families and businesses. Until we reopen, here's a few ways you can get your paintball or airsoft fix. 
We are shipping online orders from www.Extreme-Velocity.com, and even offer free local delivery! 
We offer off-site rentals, click "book now" to reserve your equipment now. (We recommend this option only for those who live in the same household, in accordance with Oregon executive order 20-12. But if you have the property to play, this can be a great way to battle the boredom of being stuck at home. All equipment is sanitized between each use.)
Purchase gift cards for play when we eventually open back up. This is a great way to help us get through this tough time. And as a special thank you, we'll kick in a bonus 25% for every gift card purchased for games during the shut-down. (buy a $40 gift card, get $50!)
We're all in this together! 
-Brian Bradley, President

Extreme Velocity, Inc.
Visiting Warpaint soon? Watch this short video on what you can expect when you visit!
---
Paintball & Airsoft & Laser Tag
These are all exciting games that promote team-work, while providing exercise, all while having a great time you'll never forget.
Age Restrictions:
Paintball & Airsoft: Must be Age 10 or older to play on your own. 
Age 8-9 can play with an adult helper. One adult/child. 
Laser Tag: No age restriction. It's fun for anyone who can safely hold the equipment! 
---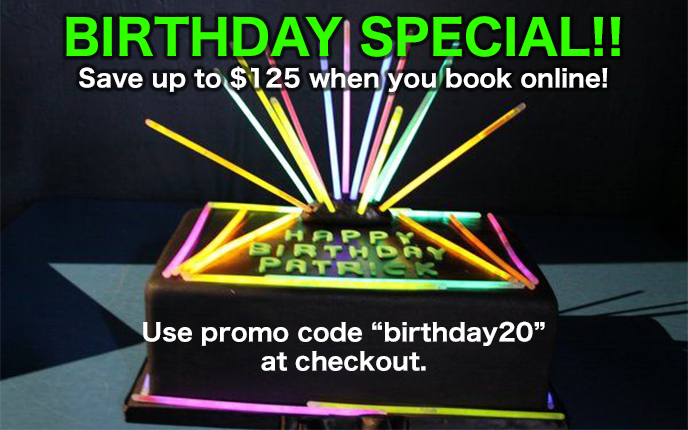 Laser Tag Party for 6 – $132.99  $99.99!
Airsoft Party for 6 – $264.99  $149.99!
Paintball Party for 6 – $324.99  $199.99!
Learn more on the Groups Page, or click "Book Now" and use promo code "birthday20" for a limited time.
---

EXCITING NEWS!!
The wait is over! Extreme Velocity / Warpaint now has 2 indoor play fields! One is our Paintball field that we've had for over 20 years, and the second one just opened and is for Airsoft and Laser Tag. 
---
The Scenario
While our Paintball field has a wild-west theme, we decided to go a very different direction with our new Airsoft/Laser tag field. This new field is done up as the office headquarters for the evil corporation "LYZE Inc."
LYZE Inc. is a biotechnology laboratory involved in some morally questionable research. Choose the blue team to side with the company and defend this important technology! Or, choose the red team to join the Raiders in taking down LYZE Inc. and destroying it's research before it's too late!
The Venue
The LYZE Inc. headquarters are under attack! Battle under the black-lights in a game of Airsoft or Laser tag like never before! Lasers, flickering lights, a rumbling soundtrack, and even a little fog help to immerse you in the game. Guard the satellite uplink, or attack the server room. Use a cubicle for cover or charge into the radiation room… just don't stay too long. 
The Details
Open Monday through Friday 1pm – 9pm
Open Saturday 11am – 9pm
Open Sunday 1pm – 7pm
***THURSDAY NIGHT AIRSOFT***
We are open every day, but the best rate of the week for Airsoft is Thursday! 
Every Thursday
5pm – 9pm
$25 entry includes 5000 BB's
Rentals available for additional $10
***FRIDAY NIGHT LASER TAG***
A brand new offering!
Every Friday
Buy 1 $10 entry, Get one 1/2 price
5pm – 9pm
Additional games are just $4/ person
Perfect for date night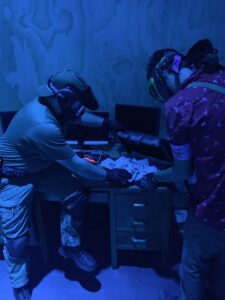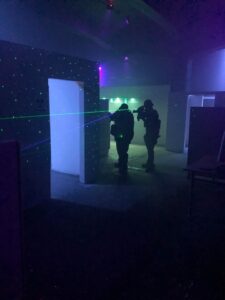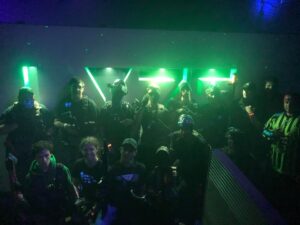 ---
For reservations and details, call the 503-581-1177