Visiting Warpaint soon?
Doing this in advance will speed up your check-in process. Every player must have a waiver filled out. Those under 18 need an adult to sign for them. 
2. Watch this short video on what you can expect when you visit!
---
Paintball & Airsoft & Laser Tag
These are all exciting games that promote team-work, while providing exercise, all while having a great time you'll never forget.
Age Restrictions:
Paintball & Airsoft: Must be Age 10 or older to play on your own. 
Age 8-9 can play with an adult helper. One adult/child. 
Laser Tag: No age restriction. It's fun for anyone who can safely hold the equipment! 
---
New for Fall 2022… Paintball Party Package for 4 Players, starting at $99!! Book Now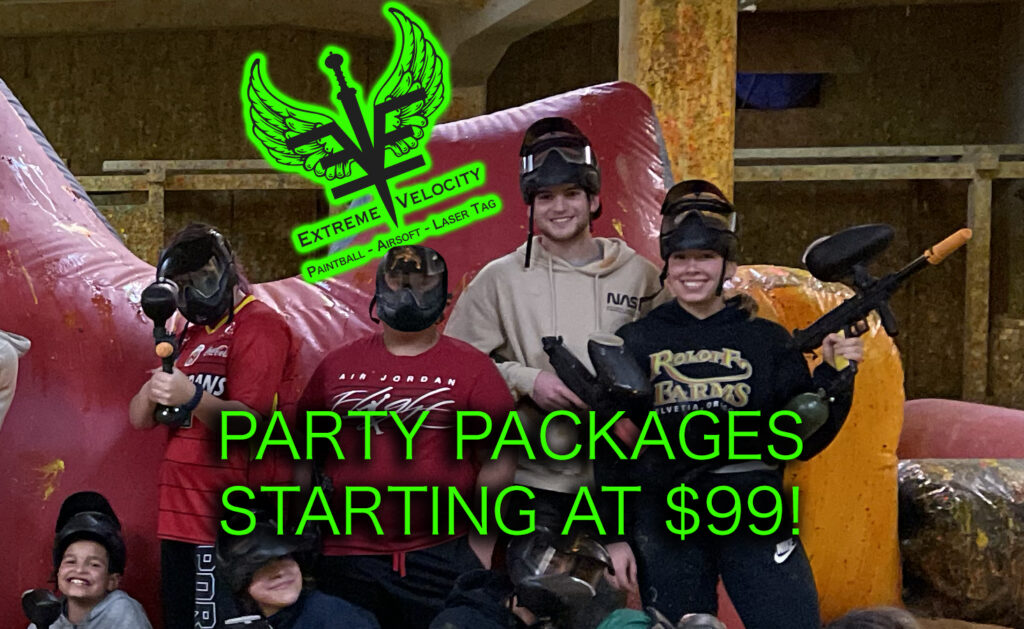 ---
---

EXCITING NEWS!!
The wait is over! Extreme Velocity / Warpaint now has 2 indoor play fields! One is our Paintball field that we've had for over 20 years, and the second one just opened and is for Airsoft and Laser Tag. 
---
The Scenario
While our Paintball field has a wild-west theme, we decided to go a very different direction with our new Airsoft/Laser tag field. This new field is done up as the office headquarters for the evil corporation "LYZE Inc."
LYZE Inc. is a biotechnology laboratory involved in some morally questionable research. Choose the blue team to side with the company and defend this important technology! Or, choose the red team to join the Raiders in taking down LYZE Inc. and destroying it's research before it's too late!
The Venue
The LYZE Inc. headquarters are under attack! Battle under the black-lights in a game of Airsoft or Laser tag like never before! Lasers, flickering lights, a rumbling soundtrack, and even a little fog help to immerse you in the game. Guard the satellite uplink, or attack the server room. Use a cubicle for cover or charge into the radiation room… just don't stay too long. 
The Details
Open Monday through Saturday
Call or Click "Book Now" to see available game times.
***MONDAY & THURSDAY NIGHT AIRSOFT***
We are open every day, but the best rate of the week for Airsoft is on Mondays and Thursdays! 
Every Monday & Thursday
5pm – 9pm for longer play time
$10 off Airsoft Rental Board Pricing
$20 Own Gear Entry / $25 with BB's
$5 Season Pass Holder Entry
***FRIDAY NIGHT LASER TAG***
A brand new offering!
Every Friday
UNLIMITED SESSION PASS $25
4pm – 6:30pm & 6:30 – 9pm
Perfect for date night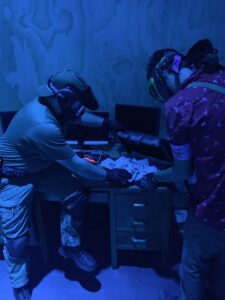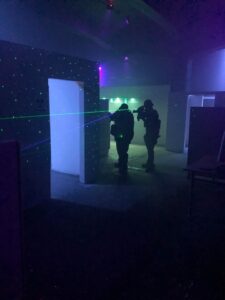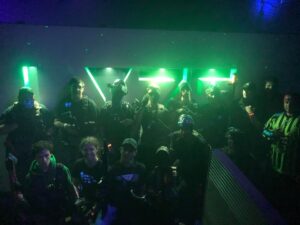 ---
For reservations and details, call the 503-581-1177
COVID-19 Update:
Updated Oct 1, 2021
Paintball and Airsoft are the perfect Covid-friendly activities! We've been wearing masks since before it was cool… and the rules dictate that you stay a minimum of 10 feet away from other players because of the speed and impact of paintballs at close proximities. We've changed how things work out in the lobby before games to maximize player safety too. Don't be stuck at home, blow off some steam with the original socially-distanced game!
Our playing fields are open under certain limiting conditions. We will have a lower player-cap than before, so we are asking all our guests to book in advance either online or by calling ahead. 503-581-1177
With the limit on total players, we are having to adapt the way we operate. We thank you for your patience as we learn and adapt on the fly.
Some changes you may notice:
Paintball Field max capacity, 30 players.
Airsoft / Laser Tag field max capacity, 20 players.
We now have "Game Blocks" spread throughout the day. We are asking that you sign up for a specific block.
We recommend showing up 15 minutes before your start time to check in.
We will run 4 games/hour during all game blocks to ensure LOTS of fun play time.
We will no longer be rotating A/B player groups, you will have back-to-back play time during your block (This means more play time, and less waiting!!)
Our masks have above-industry-standard cleaning done with every use, but we also realize many guests may be more comfortable with a new mask that they can keep. These will be available at just $15.
Off-site equipment rental is also available, so that you can take the fun home!
What about our store?
Retail businesses are fully open. Check out our online store, or come on down to shop in person!