Visiting Warpaint soon? Watch this short video on what you can expect when you visit!
Extreme Velocity, Inc, has purchased Warpaint International!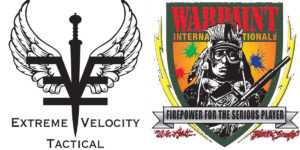 Exciting news for the Paintball and Airsoft community in Oregon! As of June 16th, 2017, Extreme Velocity and Warpaint are joining forces to deliver the best possible experience for all who love Paintball and Airsoft. We have many changes planned, including moving Extreme Velocity over to the Warpaint building, a full remodel of the lobby/retail area, opening a brand new designated Airsoft indoor field, opening 7 days/week, and more. Please check back often to see what's new!
Both Extreme Velocity, and Warpaint will remain open during the transition. It is our goal to not disrupt anyone's plans!
Visit the Extreme Velocity website
---
Ways to play
At Warpaint, we can accommodate groups from 1 person to 400 people.
For small groups 1 – 9 people:
Feel free to stop in during regular business hours, and we can fit you right in.
Or, make a reservation to make sure there's plenty of space.
See our Rates page for pricing information.
For medium groups 10 – 49 people:
For groups of this size, we strongly recommend making a reservation ahead of time.
The larger the group, the better the pricing too! Make sure to
visit our groups page for more info.
For large groups 50+ people:
For groups of this size, we require making a reservation ahead of time.
For special group pricing, make sure to visit our groups page.
---
Paintball & Airsoft…
These are both exciting games that promote team-work, while providing exercise, all while having a great time you'll never forget.
---